Performances

Music

Contact


A most talented singer-songwriter

--Charlie Backfish, WUSB radio "Sunday Street"



Charming, delightful, foot tapping grooves... Cruso hits the mark with beautifully lyrical pieces...technical wizardry and compositional prowess shine throughout.

--Christy Moores, Dusty Strings, The Quarter Note, Seattle, WA



A musical tour-de-force, fusing an eclectic melange of folk, jazz, and Celtic elements...a poetic virtuoso

--Carla Baku, Eureka Times Standard



Carolyn has emerged as not only a skilled instrumentalist but as a singer-songwriter of distinction... Be prepared to be transported.

--Suzanne Becker, Colorado Springs Independent



The folk diva mixes excellent musicianship with poetic lyrics and an ear for lilting melody.

--Glen Starkey, San Luis Obispo New Times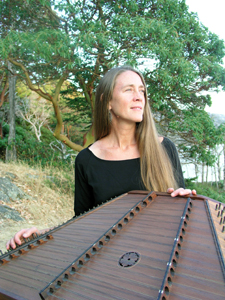 Carolyn Cruso is an acclaimed multi-instrumentalist and composer. She has toured widely in both the United States and Europe, as well as producing eight CDs during that time. She is equally at home on hammered dulcimer, flute, guitar and vocals and performs a diverse array of original tunes and songs as well as traditional material. Her instrumental compositions are mainly for the hammered dulcimer and are inspired by her strong connection to nature as well as her extensive travel and the cultures she's encountered along the way. Her unusual and lyrical approach to the dulcimer especially delights audiences and has even won over curmudgeons who swore they hated hammered dulcimer!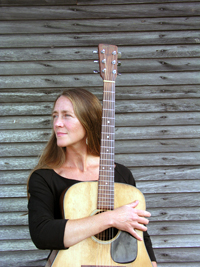 Most of her traditional material has been gleaned from her two and a half year sojourn in Europe with late partner Robert Almblade, whom she performed and wrote with for over a decade, as well as playing at Irish sessions around the United States. The material is largely Celtic and her involvement with that genre colors her original work.

As a relative newcomer to the performing songwriting genre, Cruso has been surprising fans around the country with the fact that she is a poetic lyricist, a powerfully expressive singer and a strong guitar player. Her lyrics explore love, loss and regedemption and convey a compelling sense of longing. She regularly uses open tunings which allow her to find rich voicings to the chords she uses.

Carolyn Cruso has been performing professionally in both the United States and Europe for two decades as a multi- instrumentalist playing hammered dulcimer, various flutes, guitar and vocals. She is now celebrating the release of her latest singer/songwriter recording, Have You Ever, which spans genres from folk to jazz to funk to pop while maintaining the focal point of Cruso's own "elegant and sophisticated" style. Reviewers are calling it "exquisite", "intelligent", "elegant" and "fertile". She is currently working on an early years retrospective project to be released sometime in 2011. Carolyn's performances have been called powerful and emotionally provocative. Her lyrics are thoughtful, poetic and possess a compelling sense of longing. Her vocals are tough and tender. Her guitar chordings have been described as delicious and her playing is dynamic and expressive.