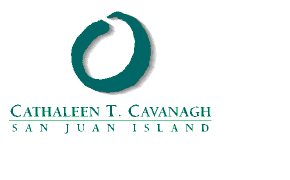 Certified Public Accountant
and Associate Real Estate Broker
Whether you're retiring, downsizing, relocating, vacationing, investing or all of the above; you need to work with a professional who can help you make the best decision for your situation.
The real estate, business & investment mix in the San Juan Islands is a unique example of limited supply & strong demand.
After twelve years as CPA's and Real Estate Professionals on San Juan Island in Washington state, Cathy Cavanagh and her partner/husband Steve Townsdin are the best ones to assist you in making the right decision for your San Juan Island experience.
Cathaleen T. Cavanagh
P.O. Box 2101, Friday Harbor, WA 98250
(360) 378-2667 ~ (800) 262-3596
Fax (360) 378-6332
e-mail: [email protected]