Part of David's Site
Start Page | Hot Sauce | Photo Page | Picnic Island | Seaweed Industry
Etymology | Glossary | Links | Resource Shelf | Star's Apothecary
David's Site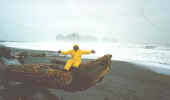 Welcome to my home page. Much of this site and its links are not yet complete. Star's site is actually the most developed.
I live on Lopez Island, Washington, a nice little island kept green by abundant rainfall. About 2000 people live here full time. Many more live on the mainland and keep houses here for holidays and weekends. We go back and forth to the mainland usually by riding on a ferry, although some folks use seaplanes, airplanes, helicopters, sail boats, and motor boats.
The inconvenience of getting here and returning to the mainland keeps a lot of people from living here. After the Lopez Village Market closes the streets empty quickly. Driving through the village at 9:00 PM in the winter is a solitary experience. Some find this pleasantly quiet and others find it tediously boring (teenagers, for example).
Entertainment on Lopez often means taking a walk, visiting friends, reading, watching the tube, gardening, riding horses, bicycling, kayaking, making homebrew, boating, and such. A new Community Center is nearing completion adding yet another jewel in our crown. Actually, as I think about it, there is quite a bit to do here. An exhaustive list would be tiring to read. For those of us liking a relaxed though usually busy way of life Lopez works.
---
| | |
| --- | --- |
| | My brother's writings |
My Father's Journey in Writing
Ray Waugh, Sr.
A variety of articles and poems by my father

---
Best experienced with



Click Here to start.
Revised Sunday September 26, 1999
---
Site developed and updated by DRW

©1997, ©1998, ©1999. Disclaimer



End of Form