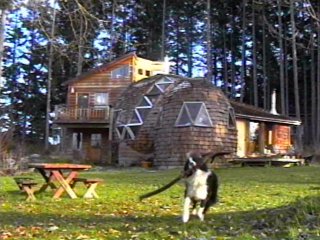 Welcome to the home of James and Susan Barkshire and sons. We live on San Juan Island in the northwest corner of Washington State. That's Lucy with the stick in her mouth.
Our guys Wesley and Ethan are currently living in Thailand. There is a link below to some of the work Wes has done.
Here you can also find the Fabulous Rhythmatics, a hot rhythm and blues band that calls the islands home. It's my weekend gig. I love the blues and R & B music, so check out the blues page where you can link to some great music resources.
I make a daily living as a home designer, doing drawings on the computer. I'm also a partner in a company that owns and develops Visual CADD. It's pretty cool software, and I encourage you to check it out.

Last Updated: March 2006
You are Visitor number [an error occurred while processing this directive].