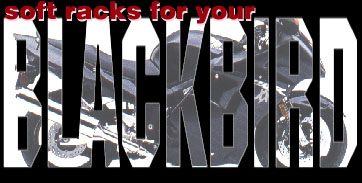 Soft racks are designed to keep your saddlebags from rubbing against the body of your Blackbird. They prevent paint
damage that often occurs on long trips. Soft Racks are:

Made from high quality steel.
Powder coated for rust resistance.
Adapt to most commercial soft bags
Provide an extra hand grip for raising the bike to its center stand.
Can be installed with no modification to the bike.
Follow the lines of the bike.

The price is $109.00 plus a shipping and handling for any destination within the continental United States. Personal checks or money orders only. Sorry, no bank cards. Overseas shipping is available. Write, call, or E-mail for information.
Greg Hertel (The Old Squid)
561A Boyce Rd. S.
Friday Harbor, WA 98250
USA
1-(360)378-2818


[email protected]




1947 Harley
1985 K100RT BMW
1997 CBR 1100XX
Home
Vista Cruise
FAQ
[an error occurred while processing this directive]