FRIDAY HARBOR
WEATHER
"EQUILIBRE"
(balance)


Brad Gislason 360-378-4860
Friday Harbor, WA
Equilibre For Sale
We are selling our Lord Nelson 41'
UPDATE!
The boat is sold
Some of you over the years have asked if we would consider an offer on our Lord Nelson 41' Sailing cutter "Equilibre", we always declined.
Times change and so have our plans.
Why a "Lord Nelson" you might ask? We looked at and test sailed both inshore and offshore in blue water the Baba Panda Tashiba 40 and found the LN to come out on top. Please contact us if you are interested for more details. And yes, this web site goes with the boat (with your address), along with everything you need for chartering (brouchures, contracts, check in forms, and more).

This ad will be going out to the magazines shortly:

RE: For Sale ­ Equilibre ­ Lord Nelson 41' tall cutter rig sailboat ­ listed for $204,500.
If you know boats you already know about the legendary reputation that Lord Nelson yachts have concerning construction, ease of maintenance and sea worthy attributes. What sets this Lord Nelson apart from the other ones is it's late model number 51 out of 56 made and it's lead ballast which minimizes heeling moment and it also has a double spreader tall rig perfect for the northwest where this boat has spent all it's life. She is powered with a 55-horse power Yanmar with low hours. She is also well equipped for cruising including a Monitor auto pilot, forced air heat, refrigeration, and extensive rework of the electrical system with 900 amps of storage. She is beautifully appointed with green upholstery and marble counters. Bright work is bright with spar varnish the only suitable finish for a boat of this caliber. The yacht is located at Roche Harbor, Washington and is an easy floatplane ride from Seattle. The floatplanes dock about 100' from where the boat is located. We are happy to show her any time.
---
"EQUILIBRE"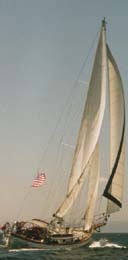 Is her name


She is a 1986 Lord Nelson 41


She lives at Roche Harbor in Washington State in the San Juan Islands


This yacht is available for bareboat charter
28k
"It is impossible to enjoy idling thoroughly unless one has plenty of work to do." - Jerome K. Jerome, English author and humorist (1859-1927).
He must have been a sailor-B

52k
Great Sailing
Equilibre is located in the heart of some of the best cruising grounds on the planet. Equilibre is ideal for test chartering by people thinking of purchasing and going offshore in a vessel of this type.
Whether you are considering world cruising, or just a week of fun, Equilibre is up to the task.
---
---
Contact: Brad Gislason
at ISLAND CHARTERS
861 #2 Schoolhouse Rd.
Friday Harbor, WA 98250
Phone 360-378-4860 · FAX 360-378-5982
Email bradgis@rockisland.com
This page has been visited [an error occurred while processing this directive] times! All material and graphics on this site try to be correct, but not guaranteed. All material and graphics on this site are ©2001 by Island Charter and Island Imaging
All Rights, Centers, and Lefts Reserved. Made in the San Juans