March 24, 2004
by Drew Gislason
Elanor Grace Gislason, the newest addition to the Gislason family, gladly takes her first of many naps at Island Hospital in Anactores. Born into the world March 24, 2004 at 3:41pm, weighing 9lbs 8oz, and measuring 23 long inches in length, Elanor is the largest Gislason baby to be born to date.
"Ow! That really hurt" commented her mother, Alicia.
"Wow! She's really beautiful" commented her father, Drew.
Elanor declined to comment.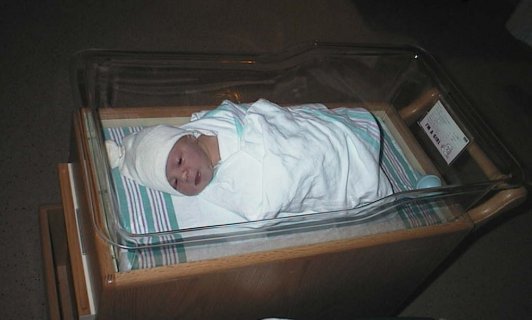 Elanor Grace Gislason sighs and slowly closes her eyes. All is well.
The Gislasons elected to have a natural child-birth, a type of birth gaining popularity among parents. A natural birth means that no drugs were administered to the mother, allowing the baby to be fully alert immediately after birth, and for the mother to hold the baby and nurse immediately if she so chooses.
Melinda Milligan, a mid-wife and resident of nearby Orcas Island who has delivered hundreds of babies, expertly coached Alicia through the birthing process. Melinda works with her patients at her home-office during the months approaching the birth and in the months following, but during the birth, she prefers to be at a hospital, in this case, Island Hospital. "Hospitals have the best facilities and staff in the off chance something goes wrong." said Melinda. "Plus, I don't take on at-risk babies or mothers."
After a long first stage of labor, lasting nearly 24 hours, Alicia birthed the baby in a rapid second stage stretch ending in a prolonged scream that calmed the other expecting mothers at Island Hospital. During the long night afterwards, the nurses ensured the tired couple would get used to sleep deprevation by changing garbage pails, drawing blood samples, and "just checking" if the mother needed anything.
A friend of the Gislasons, Winnie Brumsickle, took care of the Gislasons' older girls, Lita and Genevieve, during the days leading up to and following the birth, and generally handling things for the absent parents. Said Winnie during a brief phone interview "Alicia just amazes me. She calmly goes down to Anacortes to birth her baby like she was going shopping to pick up some shoes. That girl's got guts!"
Long-time friend Andrew Poliak mentioned his disappointment that the baby wasn't named after him, and even more disappointment that Elanor has blond hair, blue eyes and looks nothing like him. He plans to take a class in genetics to understand why not.
A bit of trivia for the J.R.R. Tolkien buffs (that movie trilogy that won pretty much every academy award): what was the name of the little, golden star-shaped flower found only in the elven wood of Lothlorien, and the name of Samwise Gamgee's first daughter? You guessed it, Elanor!
All is well and after a brief stay at the hospital, the Gislason family headed to their home in Friday Harbor, San Juan Island, the proud parents of a beautiful, healthy baby girl. They were two of a kind, working on a full house.