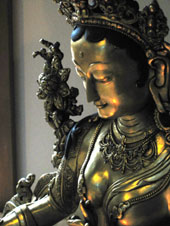 In 1986 Sakya Kachod Choling was begun as a retreat center for H.E. Sakya Jetsun Chimey Luding of the Sakya lineage of Tibetan Buddhism.
Over the years this place has been blessed by the presence of masters of the Sakya lineage, including H.H. Sakya Trizin, H.E. Sakya Jetsun Chimey Luding, H.E. Luding Khenchen Rinpoche and other wonderful teachers from different Buddhist lineages and traditions.
The center is located on 20 acres of beautiful tree covered hillside on San Juan Island Island, Washington. The serene, natural setting with a viewof Mt. Baker offers a place of refuge and support for Buddhists and non-Buddhists alike year 'round.
At present, the facilities at Sakya Kachod Choling are designed to offer very affordable space for private, individual retreat and small group retreats. It is an ideal place to step back from our hectic, fast paced lives. to reflect and look inward. Retreats ranging from those doing strict, Vajrayana practices to quiet, meditative time alone either in the retreat rooms or walking the mile to the water's edge are all possible here.
SKC also conducts it's own group retreats under the guidance of affiliated teachers.
For detailed information on a personal or group retreat, please contact Thrinley Di Marco at 360-378-4059 or e-mail [email protected]
Lama Kunga Tondrup, Sakya master of ritual arts, will be visiting the Gompa from May 25
Sakya Kachos Choling website has recently moved to it's own domain: www.sakya-retreat.org
Make sure to bookmark it in your web browser.
Ngondro - July Retreat Flier 2004.pdf
- Will open in Adobe Acrobat
Click Here to view an OM MANI PADME HUNG digital Prayer Wheel