Kayak Way

Skin Boat Publishers - Books, Plans and Videos
---
As of 3/6/09 We have temporarily stopped taking orders- probably thru summer '09
---
P.O. Box 451
Eastsound WA. 98245
"kyak @ rockisland dot com"


(opens exterior links)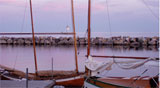 North House Folk School- Grand Marais, Minnesota
- The Eyak Umiak project

- click image



Kodiak Kayak Frame - - - - - - - - - - - - - Palaaq- Logging to Launch in 50 seconds!
-
more videos from this project at our YouTube channel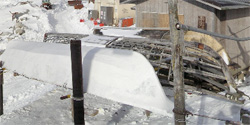 Virtual Diomede




Harvey Golden on & in the Columbia River(YouTube)

Nunivak Kayaks - video
Walrose&Hyde Kayak & Skin Boat publishing - (contrary to rumors, Umiak is still in print, but they're going fast!)
"I love your books (got them both) and the video.
I have been working (mostly planning thus far) off of your Sumiak plan set too. These are great resources." DP, boat builder and SOF enthusiast from Alaska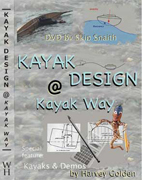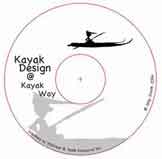 Kayak Design DVD -- Stills --TOC--- Order page



Wood & Canvas Canoes: worth a look!

---
Summer Camp on Nunivak Island-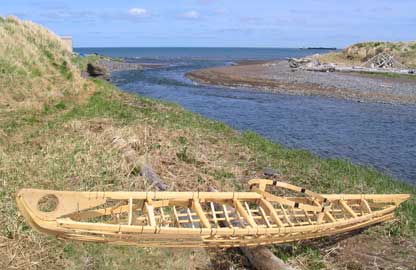 ........................................Kayak Frame, 2004, Nash Harbor, Nunivak Is., Bering Sea in Background
slide show

Kayak Way

Kayak Way is a small Orcas Island boat shop with an International reputation.
We work in the Alaskan skin boat tradition. Our work includes, but is not limited to:

...Work with several Alaskan villages on historic research, education, re-introduction and preservation of kayak traditions.

...Ceaseless advocacy for skin-on-frame as a viable modern boat building method.

...Design and build a wide range of custom boats of all types, canoes, kayaks and smallcraft.

...We produce Museum-grade frames for architectural and decorative use -home or business,

...I'm taking a sabbatical from teaching. Master Classes
are on hold for the time being.

... perform on-going research/design /publication of skin boat plans.

... active publisher on skin boat subjects(Walrose & Hyde)
---
Skin Boat Books from Walrose & Hyde

Umiak An Illostrated Guide
---
no-so New Stuff
Martin Leonard's kayak links
Martin is an expedition and surf kayaker extraordinaire
who also has a solid background in telecommunications
and technology training. He's also gotten more Alaskan Eskimo kids
out in kayaks than anyone else I know about.

---

more Qayaq Building in Alaska adventures


August - I finally made it back to Chevak! - October 2002
Qayaq Evolution
The Sod Houses
(I am just starting to post stuff from this trip as of 1/14)
---
fragments from the cutting room floor
virtual kayaking scenes
---
- april, 2002-

Nunivak Kayak

Launch Report

Latest Addition to the family
Auklet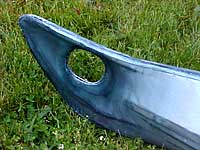 ---
Catalog of
Kayak & skin boat plans
for the Wood-frame builder
Boat Photos- 16' Umiak/Dory
13' Racing Dinghy
---
Report on Qayaq building/revival in Alaska -
Nunivak's Web Page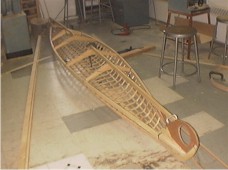 ---
A Qayaq and The Angyaq Project
and some Images from Kwigillingok, Alaska
---


Winter 2000 - Qayaq (qayar) building on Nunivak Island - pix & story
---
Check out our umiak Section - instant pix
Its Here! - Umiak Book
Kayaks, Umiaks & Skin Boats


King Island Bird-hunt
That's me in a semi-replica Caribou Hunter built by Harvey Golden.
Harvey's replomania is incurable,
...and worth checking out.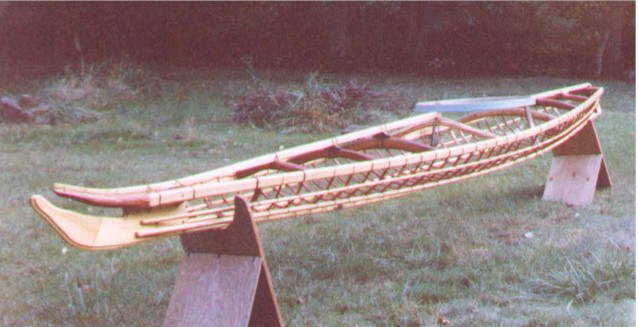 The frame for "Feather", a recent 15' 8" Aleutian style single. ( Plans available)
Boat pictures or ...Detail Gallery
Index and Access
---
Skin boats - Boatbuilding - Master Classes - FAQ - Latest projects - Who - Rumors
---
Front door __Orig. Front page- bells, whistles - Overview - boat pics
Back Door _ --Back pages Skin boat building spoken here
_ Side door_. -This door is slightly warped.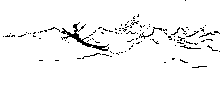 ---
Feedback:
xzxe3467ujfnospam eeemail - kyak at rockisland dot com - fdr54346ghmapson
---
POB 451 98245, Eastsound WA.
360 -376 - 4754